The Best DAW Software to Use as a Beginner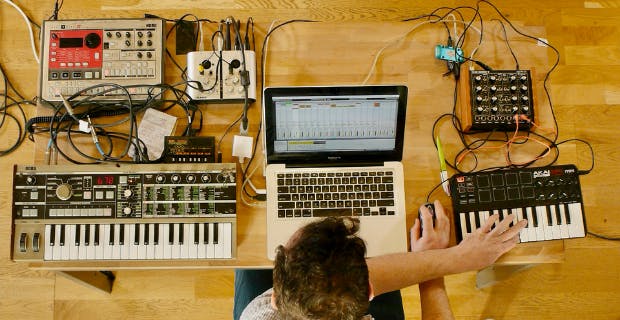 If you want to make your own music but aren't quite sure where to start, then this is the article for you. We've put together a comprehensive list of the best DAW software to use as a beginner, approved by the pros here at MusicGurus, to help you on your journey to becoming the musician you always wanted to be.
What is a DAW?
A DAW, or a Digital Audio Workstation, is a software programme you use to create your own music. The best DAWs can become one of the most important pieces of equipment in your music production arsenal, as they are the central place where you record, mix, edit and master your projects. 
How to Choose the Right DAW Software for you
There are plenty of Digital Audio Workstations to choose from, all with different features, workflows, difficulty levels and price points. As a beginner, it can be hard to cut through all the noise and find the right DAW software that meets your needs, goals and experience level. 
Thankfully, there are some steps you can take to find the right DAW for you:
With any decision, it's important to do your research first. Our article is a great place to start and there are lots of other resources out there, as well as this great article from the people at Music Radar
Most major DAWs now offer free trials or lite editions, some of which we'll mention below. If you're completely new to DAWs, or perhaps you just want to find a new software, take a few free trials and test whether the software is right for you
Take some music production lessons
Music production is a huge subject, with everything from writing and recording through to mixing and mastering. Take some of our online music production courses to learn more about the discipline and make a much more informed DAW purchasing decision 
The Best DAWs for Beginners
With all that in mind, we've put together a list of what we think are the best DAW music software for beginners.
GarageBand
The first DAW on our list needs no introduction. GarageBand has been making music production easy and accessible to users for years now.
This free (yes free!) DAW was developed by Apple and if you own a Mac or IOS device you already have the software built in, making it a no brainer for beginners. We would even argue that GarageBand is a useful tool for experienced music producers, with hit songs such as Umbrella by Rhianna and In Rainbows by Radiohead being produced on GarageBand!
It also shares a lot of features with Apple's leading Logic Pro, making it a great first step if you're thinking of investing in that software later.
Pros:
Simple interface that's easy to use
Includes a variety of plug ins for basic production and editing
It's a good introduction before using Logic Pro
It's free
Cons:
It's only available on Mac and IOS
Audacity
If you don't have a Mac or IOS device and are still looking for a free digital audio workstation, then Audacity is the answer. Audacity is free, easy to download and compatible with all computers.
Unfortunately, this DAW doesn't record MIDI so you cannot use virtual instruments such as samplers or synths. However, it is fully capable of recording external audio on a timeline which may be all you're looking for as a beginner anyway. 
Pros:
It's free
Compatible with all operating systems
Allows you to easily record and edit audio
Cons:
Doesn't work with MIDI instruments so it's not the best choice for a full mix
Not a lot of features for progression
Ableton Live Intro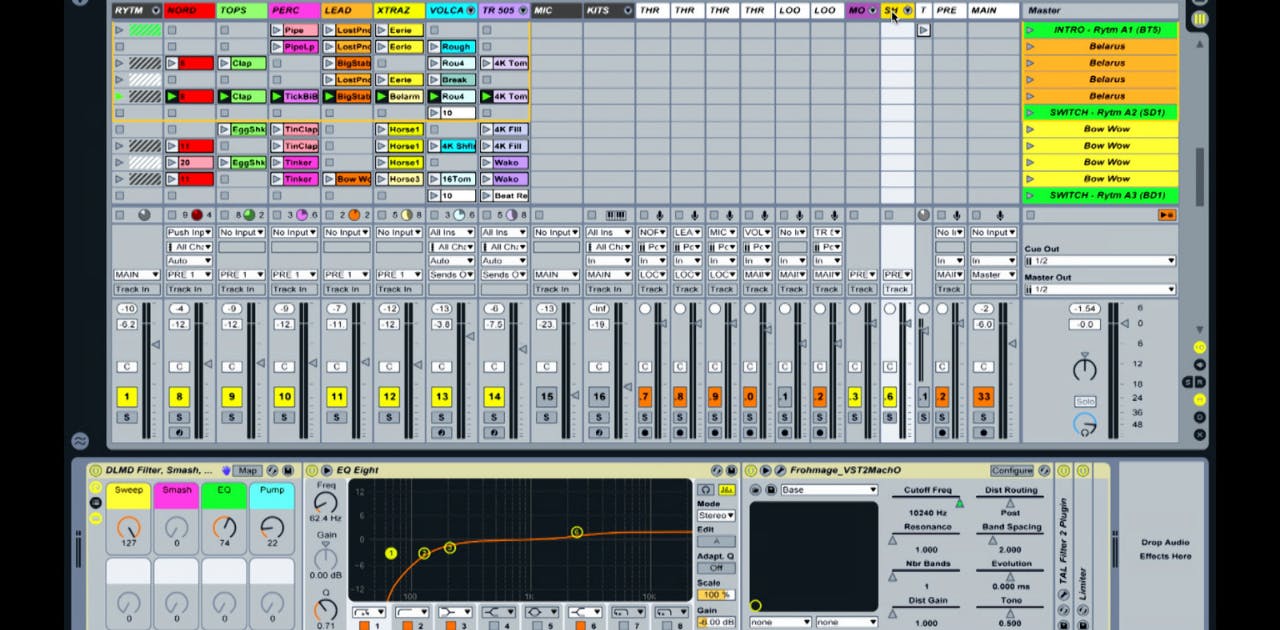 Ableton Live is one of the best-selling DAWs on the market today and is particularly popular amongst DJ and dance music producers. The software is known for being quick and easy to use with a variety of plug-ins, samples, EQs and more that make it particularly good for live performances. 
With Ableton Live Intro you can get access to a large amount of Ableton Live's workflow features and core library, including audio and MIDI effects. It's a great way to trial out the software for a reduced price whilst you get a hold of the basics. 
We also have a variety of courses to help you on your journey with Ableton Live, including our beginner friendly course with Ableton Certified trainer, Isaac Cotec.
Pros:
It's a good way to try out Ableton Live for a reduced price
More than enough to produce your own songs
Popular with professionals
Lots of effects and plug-ins
Fast and creative workflow
Cons:
It can be difficult to pick up at first
It doesn't give you access to the full software
Reaper
Reaper is one of the most affordable DAW Softwares available today. Available for free for 60 days and then $60 afterwards, the company has not sacrificed quality for price.
Audio, MIDI, video and bussing are completely customisable so it's easy to create your own unique tracks. Beginner users can simply record audio and advanced users can make use of the open source code to program extensions.
Pros:
Great DAW for the price
A good tool to progress your skills and knowledge
Very customisable
Cons:
Not as many plug ins as some other DAWs
It's relatively new in comparison to other software on this list
Pro Tools First
Last but not least, we couldn't create a list of the best DAW software without mentioning Pro Tools. Loved by professionals, Pro Tools is an industry staple that is found in almost every professional studio.
We almost didn't include it in our list as it is not the easiest DAW to use at first. However, once you get the hang of it, you'll find out why Pro Tools is loved for its speed of editing and high-quality mixing environment. Plus, we have a variety of Pro Tools masterclasses to help you on your journey, including Recording and Mixing in Pro Tools with Ciaran Robinson. 
Pro Tools First gives you access to a variety of sounds, plug-ins, audio tracks, MIDI tracks and more for free whilst you get a hang of the basics before you progress to the paid versions of this DAW software.
Pros:
Widely recognised as the best DAW software in the industry
Will save you time if you want to become a professional producer
The First version is free!
Cons:
Beginners may find it difficult at first
It doesn't give you access to the full software
So now that you know what the best DAW software for beginners are, choose the one that you think is right for you and don't forget to check out our music production courses to learn how to make the most of your new tool.